บทความเกี่ยวกับร้าน Chi Ju Ya จาก หมึกแดง club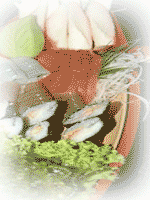 By the time this column comes out it would be the last day of the Chinese vegetarian eating period.  Every year, more and more people stop eating meats and certain herbs and spices during the eating vegetarian season or period.   This yearly event use to be strictly for Thais of Chinese descent.  It is a ritual that has been practiced for centuries in Chinese culture and it is regarded as a time to cleanse you body and soul of impurities.  During this period, you are expected to not only stop eating meat but also to stop from sinful acts such as lying, cheating drinking and gambling. I am not sure about sex because I don't usually go strictly vegetarian during this period.   It is actually a very good idea to go on a vegetarian diet for these 10 days because you get to give you body and more importantly your digestive system a rest.  Some people are very strict with their diet to the point of using different plates and cutlery to eat vegetarian.  This practice reminds me a little of kosher food.Today in keeping with the tradition of eating vegetarian I am going to take you to eat at a Japanese Vegetarian restaurant on Sukhumvit 55 Soi 2. This restaurant has been serving Japanese vegetarian for quite a few years. Their shop use to be at the United building and they only serve vegetarian food which at that time was quite popular because they had enough space to serve Japanese vegetarian buffet. Now that they have moved the restaurant to Soi Thonglor (Sukhumvit55) at Fifty Fifth Building on the second floor there is less space and they no longer have buffets.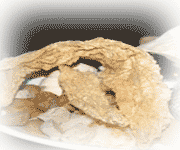 The quality of the food remains the same though. To properly eat vegetarian during this period there are certain kinds of herbs and spices which are not made of meat which you also have to avoid. No garlic, green onions, or any kinds of onions, coriander leaves, Chinese chives are to be eaten during this vegetarian eating period. It is believed that vegetables that have strong smell should not be eaten. Of course, no alcohol or tobacco is permitted during this time. Anything that comes from animal cannot be eaten such as milk, eggs and cheese. I use to think that all these limitations do not leave me much room for making vegetarian food tasty. But they are very resourceful. Imitation ducks, beef pork shrimp, all meat products are made from flour. They taste and smell like meat.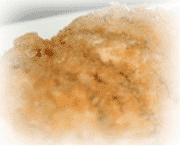 At Chijuya, I tried many dishes some I found to be very delicious while others couldn't replace the real thing. For an appetizer, I try their Temaki roll, which is stuffed with vegetables, rice, apple and a creamy salad dressing and wrapped into a cone with Nori or seaweed. It was very refreshing crunchy, chewy and slightly sweet. You might want to try the Sashimi boat, which consisted of imitation raw fish; Surimi is imitation crab and seaweed salad. I was particularly taken with the Surimi, which I found, to taste just like the real thing. Vegetarian spring roll cannot be missed because it is crispy and very good. We tried shrimping sushi and eel sushi and finding that the shrimp sushi was very authentic and had the right smell and texture but the eel was a little too dry for my liking and there was too little sauce on the eel. It was with great surprise that the shrimp and vegetable tempura was very good indeed. The batter was extremely fluffy, crunchy and light. The shrimp inside the tempura batter had the right texture and taste like real shrimp. I was delighted with this dish.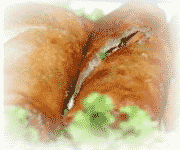 There was vegetarian abalone sashimi and noodle with vegetable and abalone sauce poured over it this dish was very good and hearty. I always liked fried Japanese tofu, which they served with additional pieces of tempura vegetables in the sauce with shaved daicon. The Tonkatsu or breaded fried pork was also remarkably like eating the real thing. I was amaised that the food at this vegetarian Japanese restaurant tasted far beyond my expectation. Everything was remarkably well prepared and delicious. They use good raw materials to make their food. Best of all, I found that it was easy to digest. On that day that I went to try out the food at Chijuya I actually enjoyed the food very much and gave my digestive system a bit of a rest. I think it is worth while to go try out their food. It is both delicious and healthy.